In September 2002, I saw Super 400 for the first time, at the Ale House in Troy, New York. There was no stage in the back room there, so a few dining tables were moved out onto the sidewalk to make space for the band. Friends and fans sat at the remaining tables, surrounded by more friends and fans standing shoulder-to-shoulder everywhere else. When the band played, they were spellbinding, and I was astonished that such high caliber songs and musicianship were happening in this cozy neighborhood bar and grill. Equally moving was the tangible sense of love in the room between the band, their fans and friends, and the staff. The next day, I started evangelizing to fellow music fans about this electrifying Troy trio and how they intuitively blended a classic 60s-70s heavy rock vibe with contemporary melodic pop mastery to create something uniquely their own. Soon, the band and I would become friends, and over the next several years ended up doing some promotion, booking some shows, and penning some liner notes for them. So far, I've been lucky enough to see the Supes play live more than a hundred times around the country in clubs, bars, and theaters, at fairs and festivals, and even on a boat (or two). And now, I'm lucky enough to write the story of their first quarter-century of pop-rock prowess, sick-ass jams and pure love.
The story begins in February 1996, when drummer Joe Daley and guitarist Kenny Hohman were onstage during an open blues jam at Pauly's Hotel in Albany, NY. The two longtime pals first met at a middle school dance, then started a band in high school. After a few years of living, writing and performing in Brooklyn and Woodstock, Joe and Kenny had recently moved back to their hometown of Troy. Bassist Lori Friday, who had just graduated with a degree in vertebrate paleontology from the University of Albany, was in the crowd at Pauly's that night.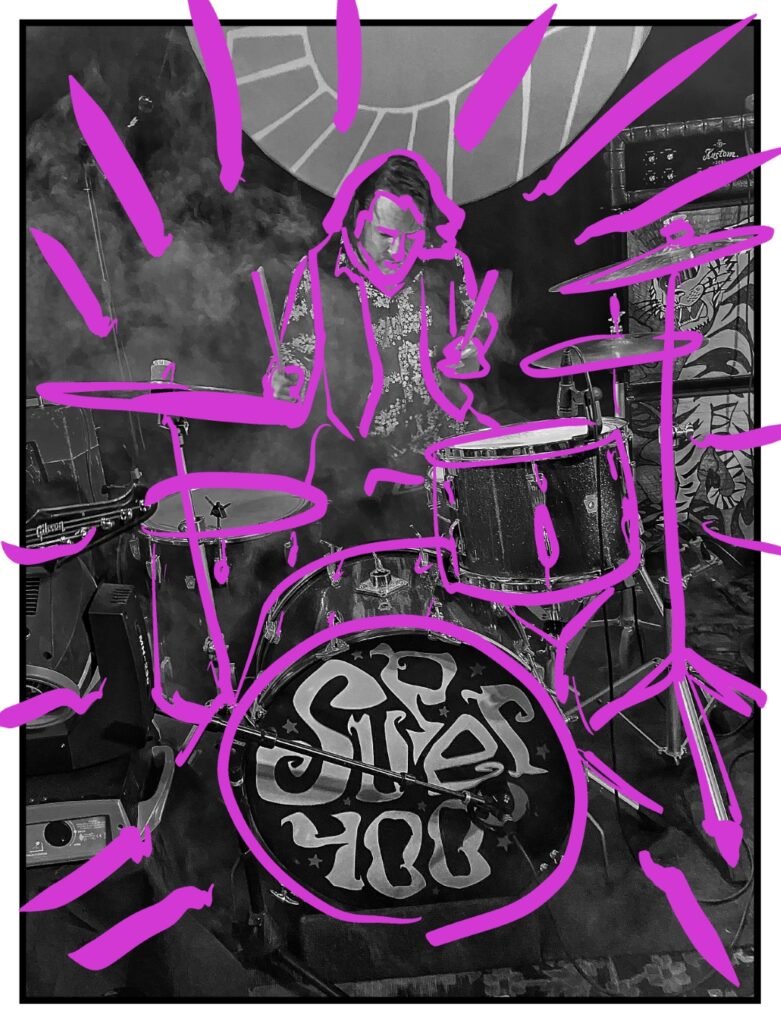 When Lori saw Kenny and Joe play, she instantly "wanted to find out who these guys were and start playing with them right away." Lori gave Kenny her phone number, and later, a date was set for the three to meet up and jam at the band's fourth-floor rehearsal space in Troy.
"Joe and I had never heard Lori play. We knew nothing to go on other than a recommendation from our old friend Steve Candlen. We were hopeful, but our expectations were low. She showed up with her bass, and after some brief small talk, we plugged in. Without discussing anything much, we started a few tentative notes, which developed into a long and dynamic jam. When the last note faded, she was in the band. We all knew it. She was, and is, a very intuitive and empathetic player, with a huge soulful sound… and a feel that you just can't fake. The chemistry fingerprint that is the "sound of us", thick and thin, was there from the start. Every time we play it is just a continuation of that first musical daydream." – Kenny Hohman
Within a few short months, Super 400 earned a reputation for their hook-laden heavy rock originals and blistering live performances. Jeff and Kip Smith of the Albany-based Cacophone Records were so smitten, they maxed out their credit cards to record Super 400's debut album (tentatively titled "Superband Wasteland").
"Cacophone Records was born out of a love affair with two things: live music and rock-and-roll. Many bands we've worked with over the past 25+ years have satisfied those desires. But, none so wholly, consistently, and with such verve as Super 400.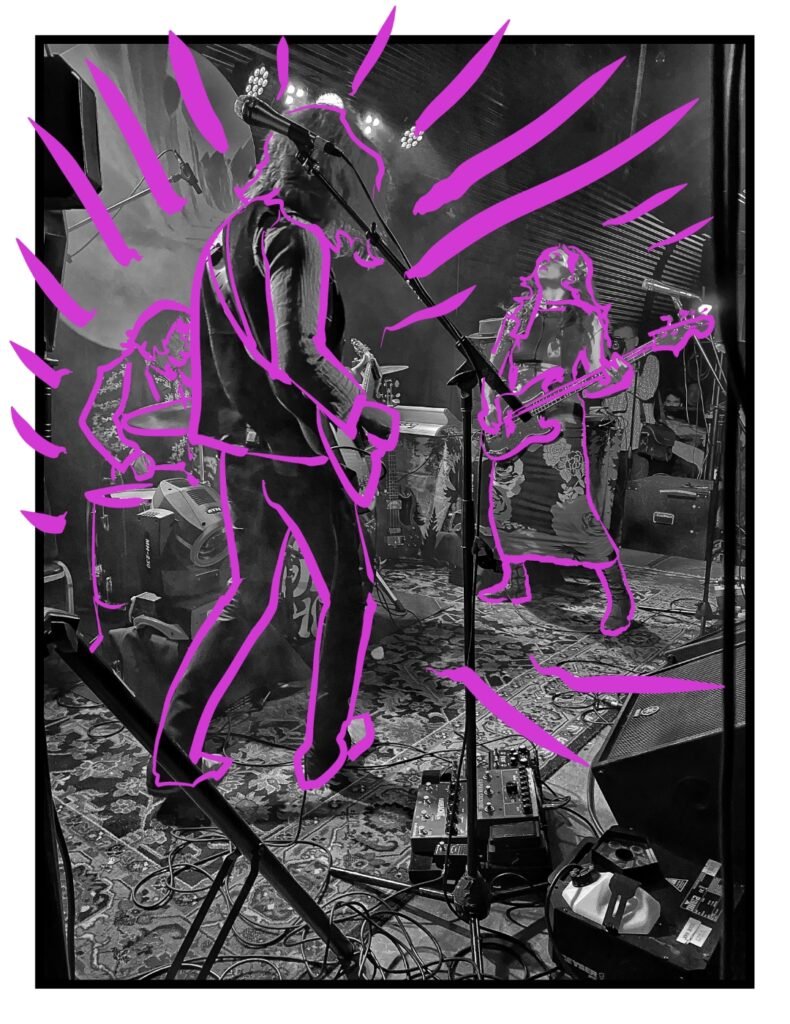 "I still remember the first time we witnessed them live. Bogie's (in Albany, NY). 1996, I'm guessing? All credit goes to our mutual friend, Kim13. She knows good music. She knew about Super 400. She saw the power and the promise they were working towards, and she was eager to share." – Jeff Smith, Cacophone Records
It wasn't long before Rough Trade founder Geoff Travis of Trade2/Island Records made his way from London to upstate New York to see Super 400 perform, and the band was signed to a five-album major label deal.
Super 400's self-titled debut was released on Island Records in the summer of 1998, with the young trio flexing their skills on shimmering rock ballads ("Tired Ghost of Love," "Don't Grow So"), pop-infused numbers ("Hitch a Ride"), heavy groove-rock anthems ('One 1000," "Day Bye Day"), and the enduring, chunky-riffed fan favorite "Cause." They began outfitting a touring van to hit the road and promote the album (and their first single "Dreamboat") with Island's support. But in December of '98, the Seagram Company bought PolyGram Records and its subsidiary labels, including Island. The new ownership unceremoniously dumped nearly all the rock bands from their rosters, including Super 400.
The newly-independent trio took a collective breath, refocused and continued doing what they'd always done: gathering new fans with a steady schedule of scorching live gigs at rock venues around the region, and spending around 30 hours every week jamming, writing and performing new material for their next album. They also kept busy with a variety of session and support work around the Northeast US, including overseas tours of England, Scotland and Wales. Kenny even made his national television debut in front of millions of viewers on "Saturday Night Live" in January 2001 in Lenny Kravitz's band for the broadcast.
In January 2003, Super 400 was booked to open for all-star rock band Peaceful Knievel in New York City at a Hell's Kitchen club, but were unexpectedly yanked from the lineup. The band's devoted Big Apple fans besieged the venue's email inbox with complaints, and the club owner eventually conceded, and put Super 400 back on the bill. That night, the trio was introduced to vocalist and future Grammy winner Mike Farris, and they would become Mike's touring band by early 2004. The foursome quickly became notorious for their smoldering live shows encompassing a broad scope of soul and r&b classics (Otis Redding, Bill Withers, Little Milton), hard rock staples (Rolling Stones, ZZ Top) and Farris originals, leaving frenzied crowds in smoky, packed clubs around the NYC area for nearly a year. The group, originally named after Ferris' solo project, "Lester Fury," was affectionately referred to as "Super Fury" by fans.
"Blast the Message," Super 400's sophomore long-player, arrived in October '04 with back-to-back album release parties at the Ale House and Albany's Lark Tavern. The eleven-song album was recorded at the band's country home, and produced and engineered by Joe's brother Jack Daley. The maturing band's burgeoning songwriting skills shone through on crisp pop-rock tracks ("Say Goodbye," "World Is Bright"), the eastern-tinged exploration of "Our Season Has Come" and the exhilarating instant classics "High Hopes" and the title track. The centerpiece of the record, however, is the exquisite sing-along rocker "Green Grass End," far and away the song most beloved by Super 400's passionate fanbase.
As the band stuffed their calendar with gigs around the US (including stops at iconic venues The Bitter End in NYC and Paradise Rock Club in Boston) while writing and recording their next record, their stature as an incendiary live act continued to grow. Drawing from their ever-expanding catalog of originals and collection of tasty covers, they never played the same setlist twice. A couple of rare, full-length acoustic gigs proved that even when they turned down the volume, their chemistry and songwriting acumen were still breathtaking. The band allowed fans to record and trade their live gigs (including dozens of shows by Super taper Charlie "Sir Charles" Monroe), earning them new fans around the US and beyond, many of whom had never seen the band in person. 2005 marked the recording and release of their first live offering, "Live 05," which included extended improv freakout versions of "High Hopes" and "Cause," some previously unreleased original gems ("Rusted," "Northern Girl") and a knockout cover of the Sly Stone/Doris Day classic "Que Sera Sera." The album was recorded during two sold-out performances at the Lark Tavern and Ale House, with fans travelling in from around the country to be a part of both magical nights.
The love affair between the band and their hometown of Troy reached a milestone when they were honored by Mayor Harry Tutunjian's declaration of February 25, 2006 as "Super 400 Day in Troy," coinciding with the ten-year anniversary of the band's first jam in a Troy warehouse loft. The mayor's proclamation was read aloud prior to a standing-room-only Saturday night Ale House show. That same year, the Supes found what Lori would call their "second home" upstairs at Ralph's Chadwick Square Diner in Worcester, MA, where they would play more than twenty times over the next few years. The band also took their first trip to Colorado for a short tour, and would return to the Centennial State multiple times in subsequent years, building a cult following and sharing a few bills with their friends, Boulder-based power trio Rose Hill Drive.
"3 and the Beast," the band's third full-length studio release, dropped in the spring of 2007, and like the band's previous effort, was produced, recorded and mixed by Jack Daley. The record revealed a band taking an expansive lyrical and musical leap forward, ranging from breakneck velocity ("Emergency," "The Brave Path To You"), to mystical hopefulness ("The Leaves," "One of the Unsinkable," "All Is Right") to spooky sludge ("Faces to the Sun," "I Could Be Reborn').
Meanwhile, Mike Farris' manager, Rose McGathy, had played the Super 400's music for the organizers of the Azkena Rock Festival in Vittoria, Spain, garnering the trio an invitation to perform at the September festival. Super 400's set in front of thousands of rock enthusiasts left the band stunned when they saw their own fans in the crowd pumping their fists and singing along to the group's originals. The Supes' newly minted international popularity provided an opportunity to later return to Spain, and then Europe. The unbounded love and positive energy from those extraordinary European crowds inspired much of the writing for the next album. Meanwhile, Super 400 racked up more road gigs across the American south and midwest, notched their first-ever show in Canada, and checked two more iconic clubs (NYC's Mercury Lounge and Burlington, VT's Higher Ground) off their list.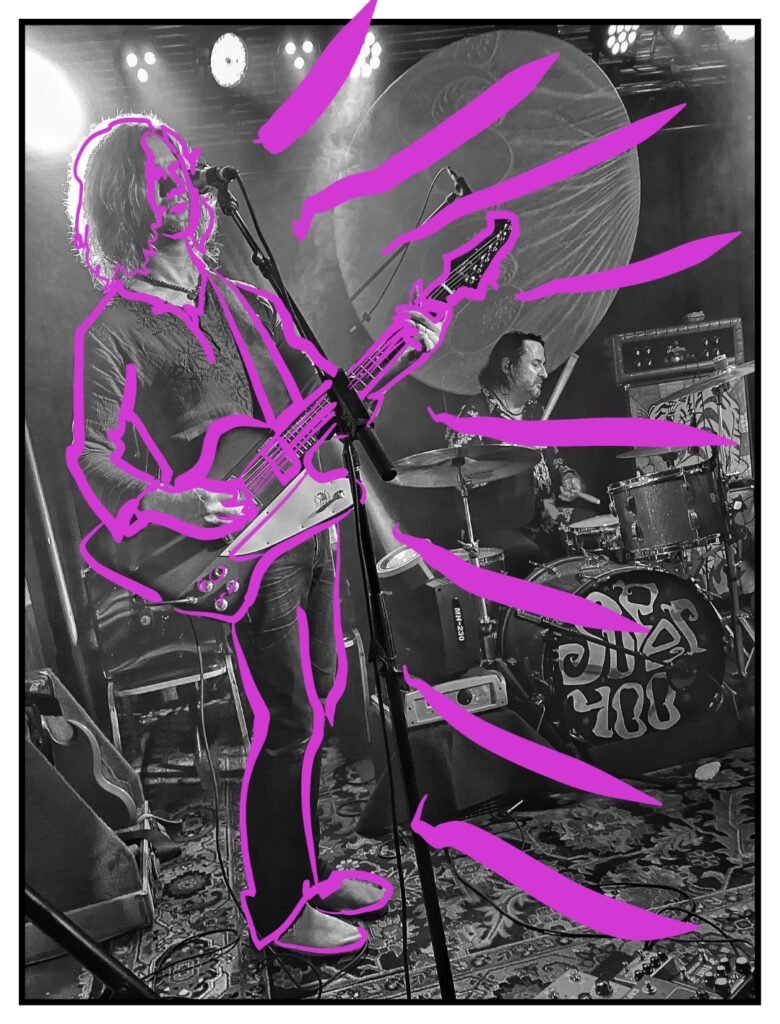 While on tour in the US, the band visited the fabled Ardent Studios in Memphis, where legends including Big Star, The Replacements, Stevie Ray Vaughan and Led Zeppelin had recorded some of the most storied albums in music history. Super 400 set up in Studio C with engineer Jason Latshaw, and recorded a new song, "Wave," in one take. The band decided to do the entire new record at Ardent, even moving to Memphis for a couple of months. "The city worked its way into our souls and we go back to visit regularly," says Lori.
"Sweet Fist," produced by Super 400, engineered by Jason Latshaw and recorded direct to analog tape, was released in September 2009, both on double vinyl and CD. Fans and reviewers gushed over the album, which saw the band pushing genres and exploring new sounds and dynamics. Lori took her first recorded turn on lead vocals with the hypnotic pop-rocker "Flashlight," while Kenny's masterful vocals and acoustic guitar made the aching "Devil Song" a singular accomplishment in the band's catalog. They showed they could still sling the meaty riffs in "Needle Down" and "Sand Hill," while voyaging into experimental territories on tracks like "FFMN" and "White Bird."
"Of all the artists and bands I have ever worked with , Super 400 has hands down been my favorite. Their chemistry as a three piece is something truly magical to witness. It was an honor to be a part of making Sweet Fist with them!" – Jason Latshaw, Engineer – Ardent Studios
The vinyl master of "Sweet Fist" was cut on the Stax lathe, which had been used to cut all the masters for the most famous Stax recordings. The lathe had been in storage and inoperable for years until the band convinced Larry Nix and John Fry to have it repaired. Not only did Super 400 get a world-class vinyl master for their new double-LP, but Ardent also went on to have a successful vinyl mastering business.
The music video for "Flashlight," directed by future Emmy winner Bobby Yan, appeared on MTV.com, and the band hit the road in support of the new record. Another transatlantic flight took them to Austria, Switzerland, Germany, Spain and Belgium for nearly a month's worth of sold-out club shows. And of course, they began writing and performing brand-new songs slated for their next album.
After returning home from a short tour of the Western US in February 2011, Lori was involved in a head-on collision when her car struck a truck on an icy country road. She sustained multiple internal injuries, requiring surgery and years of rehabilitation. The band, finding their lives suddenly thrown into disarray, made quick plans to alter their course. Knowing they would be home-bound during Lori's rehabilitation, they decided to open a music school in their hometown of Troy along with good friend and guitarist Graham Tichy. The Troy Music Academy paid the bills, but more importantly, allowed the band to connect with their community by giving music instruction to young and old. The Troy Music Academy is running strong to this day.
Under sunny skies at their country home in autumn 2011, Lori and Kenny were married. Naturally, the ceremony was performed by the Reverend Joe Daley, who had been legally ordained for the occasion. With Lori in her wedding dress and Joe and Kenny in their suits, the trio even played a set at the reception as Blue Machine with legendary Troy frontman Tommy Love.
When Lori and Kenny's daughter Ellie was born in 2013, they became entirely focused on being parents. As Lori's physical condition steadily improved, the band started writing again and playing shows around the Northeast. But even as their circumstances and priorities shifted, Super 400 was still a band and a family.
When they haven't been performing as Super 400, the members have been involved in several side projects, including the improvisational all-star group Family Tree, and the aforementioned heavy rock cover band Blue Machine. And Ellie, with encouragement from her mother, father and her Uncle Joe, has taken up the drums, and made her public onstage debut behind the kit (alongside her parents and Joe) in 2021.
If you've seen Super 400 in the 2020s, you know they're at the best place they've been in a decade. Live takes of their classic tunes are as dynamic, inspired and crisp as ever, and when they throw down one of their trademark free-form jams, they can still pull that vintage Super 400 magic down into the room, but with a new awareness and willingness to relax and wait for the bigger moments.
They're exploring new dynamics of light, shade and nuance in their newer originals, too. The shuffling, slinky fan favorite "Honey and Coffee" might be the most infectious and soulful number in their repertoire, while the atmospheric stomper "Thank the Moonlight," with Lori on lead vocals, proves they've still got fresh, thumping grooves for days. Life changes have also shaped the direction of the trio's songwriting: two of their more recent tunes, the buoyant and melodic rockers "Dream of You" and "Only Child," are intensely personal.
"Today, in a new century, they've only gotten better. Continuing to push forward on creative, vital, and even mightier promises. xxxWriting this has me hungry for the next show. The next release. And, more simply, the next time we get to hang with an incredible band comprised of extraordinary musicians and fantastic people." – Jeff Smith, Cacophone Records
On the first track, "Breathe," from their first album, Super 400 earnestly expressed their wish for a world "where everything's groovin' and we were all old friends."
It looks like Super 400 got their wish. Everything's still groovin' for those old friends, and they continue to give the world more killer live shows, more transcendent songwriting and recordings, and many more years of love, family, friends, and rock and roll.
(by Jim Meaney)